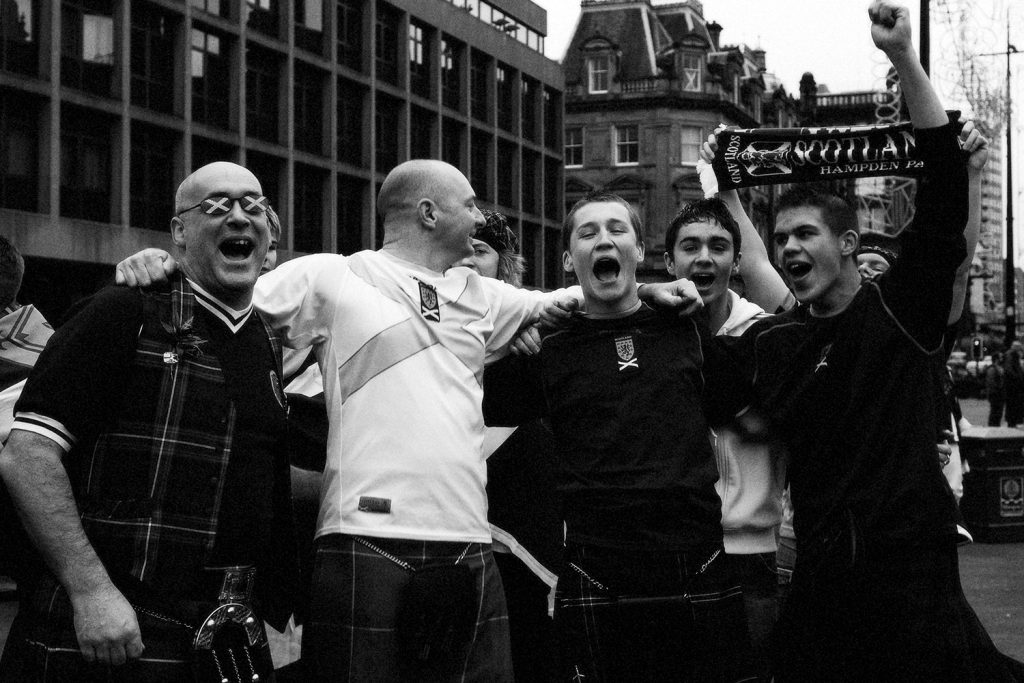 As Scotland hosts England at Hampden Park tonight to celebrate the 150-year anniversary of the first International football match, I've unearthed an article I wrote for a short-lived periodical during the 2012 European Championships in Poland and Ukraine. Rewritten for relevance and to remove some embarrassing writing, I repost it here to build up to the match this evening.
To some, it's as Scottish as tartan, shortbread and a tendency to be shy in parting with money. The desire to see the English football team lose, especially at a major tournament, grows in a Scot's footballing psyche concurrent to the expectation of our own international team's inevitable, glorious failure. Having so often subscribed to the Anyone But England philosophy when the auld enemy makes a tournament that we don't, it's always fun when the anyone is us.
It is, of course, not the English people, nor historically the English players that the Scots have a problem with (though with such past colossal fuckwits as Ashley Cole, John Terry and Wayne Rooney holding up their side, they've not been an easy bunch to admire) it is the English media and in particular its television and tabloid strands, staffed by the inflated egos of a few ex-players, that irritate us with such precision.
Football's Coming Home
Certainly for every major international tournament I've experienced so far, and despite the recurring, predictable mediocrity of their national side, the English media perform that same tired routine, embarrassing the populace in much the same way Uncle Kenny brings on a cringe as he does the Slosh at your cousin's wedding. This is England's tournament, they cry. England will win! they exclaim. Football's coming home! They sigh, eyes tired like they don't quite believe it themselves. Tragic. If that wasn't enough, and you could imagine it would be, the Scots have developed a tried and tested drinking game. Drink each time an English commentator refers to any of the Three Lions' past glories. If he refers to World Cup 1966, drink everything. Everything in the world, ever. Still, I digress…
To be fair, Gareth Southgate has done the unimaginable. He has brought together a likeable England team. Sure, a team that would lead the media to in an insufferable dance were they to win anything, but hey, at least you don't expect any of them to be out-and-out racists.
A Coaching Rollercoaster
Since wor Sir Bobby, England have been on a coaching rollercoaster. Remember when Fabio Capello's reign came to an end months before Euro 2012 here in Poland and Ukraine? It sparked the People's Choice phenomenon whereby no one on the planet, other than the English media, seemed to think Honest 'Arry Redknapp was the right choice for the job. Still, the line that this was the man they wanted was fed to the general public, time and time again. In the end, ol' Candleface was overlooked, ostensibly because his only real skill was in buying and selling, in wheeling and dealing – the need of which is missing in international football, though may be a benefit to a used cars salesman. Instead, the FA opted for a man with significant international experience, personal appeal and tactical nous. England welcomed Roy Hodgson.
The media backlash and tabloid reaction was immediate, depressing, and predictable. That bastion of serious, intellectual journalism, the Sun, ran a headline the following day mocking Hodgson's speech impediment. Bwing on the Euwos, it cried. In a telling moment's lack of self-awareness, a tabloid journalist interviewed on BBC Radio exclaimed, I can't believe they haven't given us the man the media wanted. Indeed.
That Pirlo Panenka
Going into the European Championships in Poland and Ukraine, the expectation on the England side was as low as I can remember it. There was little fanfare and very few, other than the most deluded of chest-beating, flag-waving souls, believed England would progress further than a quarter-final appearance. A resolute draw with France, three hard-won points over Sweden and a less than emphatic victory over Ukraine saw England top their group and qualify to play Italy in the quarter-finals. An awful England performance led to a 0–0 draw after extra time saw a penalty shoot-out which, after several misses and a delicious Andrea Pirlo Panenka, ended in the almost foregone conclusion of England's exit from the tournament.
Though he took England to 3rd in the FIFA world rankings, their highest position, Hodgson was gone only 4 years later, replaced by Sam Allardyce for the most embarrassing 67-day tenure of an international coach the world has ever seen. Gareth Southgate swiftly replaced Big Sam and remains in the post today. In Southgate's 3rd match in charge, England defeated Gordon Strachan's Scotland 3-0. After that, in the 2 matches played over the succeeding 6 years, neither team has come out on top. A 2-2 draw in 2017, and a 0-0 draw in 2021.
The Form Team
In recent times, Steve Clarke's Scotland team has been in the ascendency. 5 wins out of 5 in the current European Championships qualification campaign is unprecedented, which means we go into tonight's match very much the form team. Of course, form goes out the window when the home nations meet. Being a Scotland fan during this era with a winning team is almost a fantasy. 20 years of glorious failure turned to penalty drama for qualification to the European Championships in 2020 then narrowly missing out on the World Cup in Qatar. Not to jinx it, but Scotland would have to collapse to miss out on the European Championships next year in Germany.
Of course, all this reminiscing brings us round to this evening. Scotland has home advantage and Hampden will be packed to the rafters and rocking after victory in Cyprus on Friday night. England go into the friendly fresh from a 1-1 draw with Ukraine in Wrocław on Saturday night. Nevertheless, do I dare believe we might beat the auld enemy for the first time this millennium? No I do not.
Hope for the best, expect the worst. I'm still a Scotland fan, after all. Oh, flower of Scotland…