In my most recent assignment for school, I was asked to design, photograph, and pitch a picture for a record cover design. Though I had the option of finding a client, I was behind schedule and wanted to avoid cooperation with a third party. Instead, I wrote a client brief as the owner of too many fireworks. For this assignment, I became the client and the photographer. The concept was to make a photograph to illustrate the cover of a fictional 12″ vinyl retrospective of my now-defunct label.
The assignment was submitted only this afternoon, so in an effort not to jump the gun, the photograph doesn't appear here. Nevertheless, early one morning last week, I took my Fender Jaguar, a collection of contemporaneous photographs of too many fireworks' artists in their pomp, and some other bits and bobs of label memorabilia, and I scattered it all at the foot of a tree among the autumnal red and gold leaves. The resulting photograph, of which I'm very satisfied, leaves me with a poignant sense of nostalgia and a bittersweet sadness that too many fireworks is no more – so much so that I'm toying with the idea of the album becoming a reality, even if only a digital release. Maybe one day.
Top 5 Record Covers
In my research for this assignment, and for some time afterwards, I have been considering what makes a strong, impactful record cover, and indeed which are my favourites. As one might imagine, I have far too many to choose from. Reducing such a wealth of material down for this top 5 is an almost impossible task. Missing out are covers from Teenage Fanclub, Radiohead, Big Star, Sigur rós, and, too many fireworks' own, Laeto among a cast of others. The 5 that follow are those that had an enduring impact on me over the years.
5. "Tigermilk" – Belle and Sebastian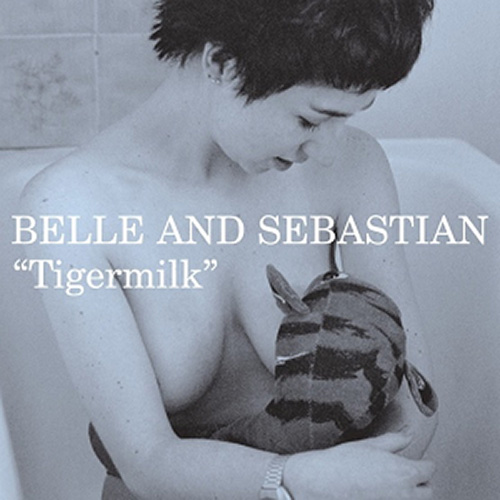 One could argue, with some success, that this album had a dramatic impact on the direction of my life. The Belle and Sebastian debut had its initial run on Electric Honey, the label run by the students of Stow, the college where I would find myself studying 5 years later, running that said same record label. For the cover of "Tigermilk", Stuart Murdoch photographed his girlfriend of the time topless, in an empty bath, an arm obscuring one breast while a cradled tigerfish toy covers the other. It is a twee, coy image with intimate innocence yet flush with the lust of adolescence which fits the themes of growing from a late teen to an adult, and the emotional, sexual, and chemical rites of passage that are experienced as a result. It is a striking, beautiful album cover.
4. F# A# ∞ – Godspeed You! Black Emperor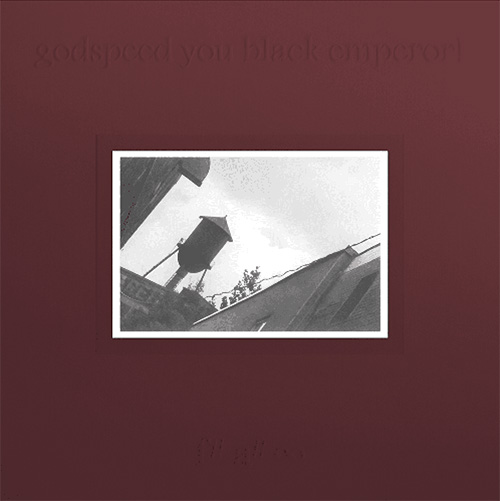 Though I have several elements of album artwork tattooed on my arms, the only one that appears on this list is from this Godspeed You! Black Emperor album – the title etched on the inside of my left wrist. To this day, the vinyl of this album comes with a penny crushed by a train, and a silk-screened image dedicated to the blues musician Reverend Gary Davis.
The cover itself is a maroon sleeve with the title pressed into it and a place for one of three photographs to be pasted. Not printed but glued on. One of either a water tower, train, or road sign. The photographs are made on black and white film and are characteristically enigmatic and open to interpretation. The water tower photograph is made at an askew angle with the tower framed between buildings. The train picture depicts a tight crop of its wheel and suspension as it sits motionless on a rail. The final photograph, the roadsign, is dark, indistinct, and taken on the move. Whichever picture the listener finds on the cover of their album, when The Dead Flag Blues begins, they are not surprised that the car is on fire and there is no driver at the wheel.
3. Sleep And Release – Aereogramme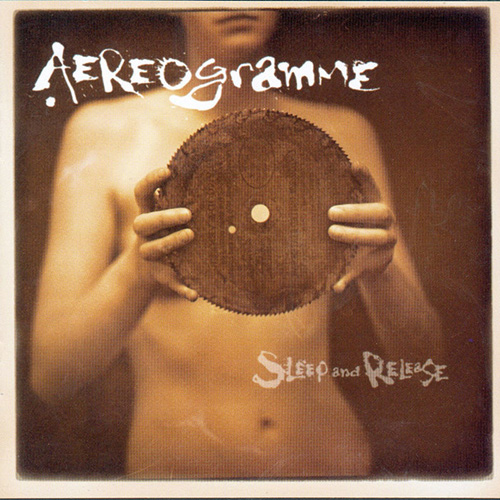 Back in the deep, dark midsts of time, I was one half of an art collaboration called We Sink Ships. During this time, Heidi and I curated online photography exhibitions on our website, some of which you can still see online. One of the most stunning was by Canadian K. Eric Kassner and his Partial to Memory collection.
Credited as Keith Kassner, he had earlier provided a photograph from his Remnants series to Glaswegians Aereogramme for the sleeve of their superlative album Sleep and Release, their second on Chemikal Underground and their only record, inexplicably, not found on Apple Music. The juxtaposition of the topless woman and the industrial, metal circle covering her body is a perfect analogue to the delicate melancholy meeting the heavy intensity of Aereogramme's music on this album. This picture is the perfect aural accompaniment to Kassner's photography so it is no surprise they complement each other.
2. EP – Mogwai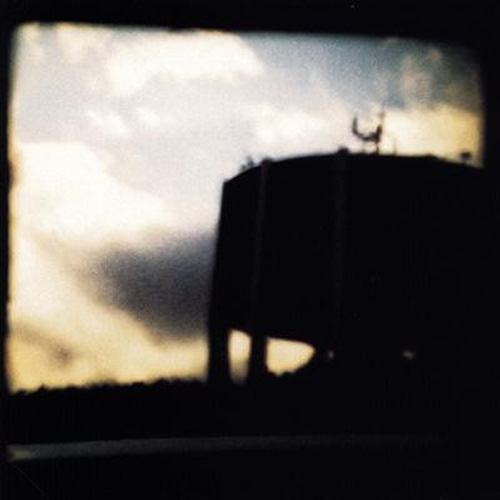 6 months following the much-anticipated release of their second album, Come On Die Young, Mogwai released a 4-track collection titled simply, EP. The music followed the path the band had begun toward a more melodic instrumental post-rock, yet still clutching the immense dynamic range from soft, almost whispered music to earsplitting, exhilarating distortion.
It is a beautiful e.p. and is it is accompanied by a beautiful image. The cover is a still taken from a film made by a friend of the band, Neale Smith. From his film Watertower, the picture on the front of E.P. is of the East Kilbride water tower in Lanarkshire, Scotland. A bleak, brutalist water tower, with the bright hopeful sky behind it – an enigmatic, fitting encapsulation of the music. So much so that when Chemikal Underground collected the first 3 Mogwai e.p.s on the label together as a compilation album, they used a modified version of this same photograph.
1. Loveless – My Bloody Valentine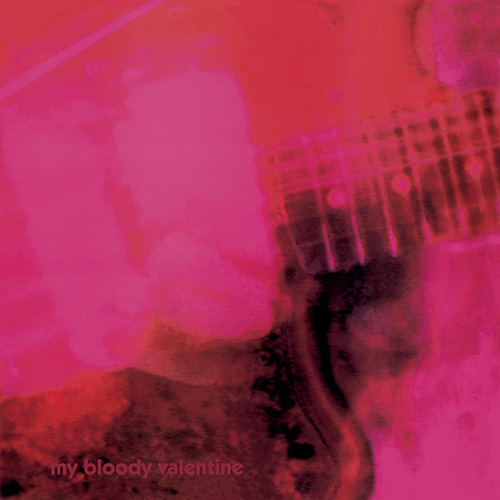 It is on the magnificent, if troubled, Loveless, that My Bloody Valentine made both their best music and an iconic album sleeve. In his article, Warped, in Q magazine issue 64, Martin Aston praised Kevin Shields for his virtual reinvention of the guitar. With warped, fuzzy, washes of sound and beautiful, ethereal vocals, it is hard to dispute this. Arduous and painstaking doesn't begin to describe the production of this album, one which took so long and was so expensive it came close to bankrupting Creation Records. What could possibly portray an album like this? The cover of Loveless is a masterpiece. The photograph, made by Angus Cameron, is a gauzy, hazy crop of a Fender Jazzmaster guitar mid-performance. A perfect synchronicity between the music and the shoegazing, at times anonymous nature of the band.
Some of this article is taken from the text of my research for my assignment for the British Academy of Photography, 2023.