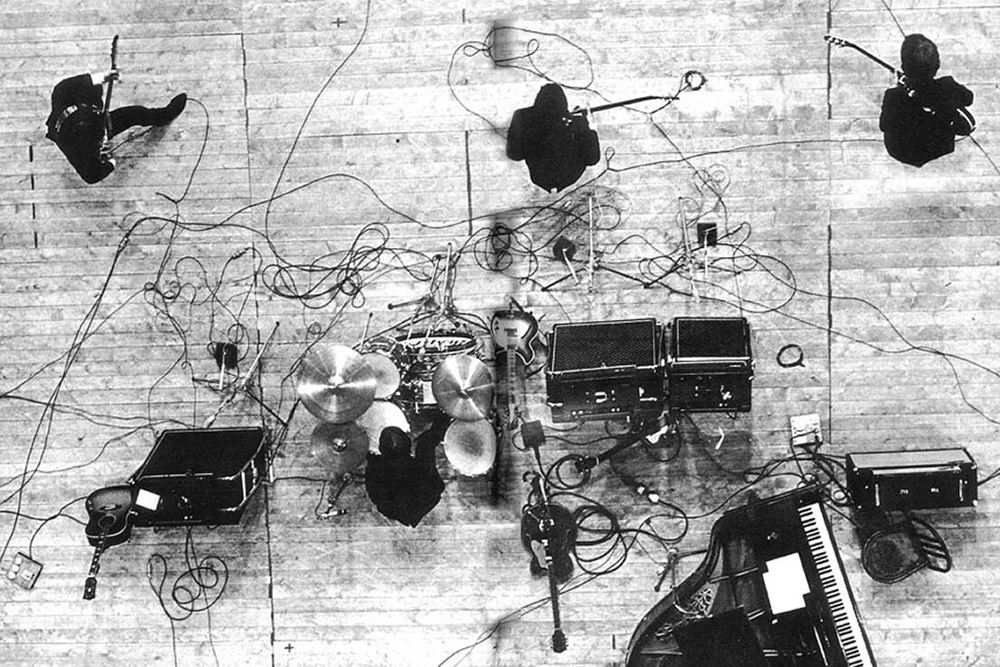 In last month's mid-month newsletter, I added a video of Randy Bachman geeking out over the introductory chord to the Beatles' A Hard Days Night. Then, just yesterday, a belated birthday present appeared and I leafed my way through Paul McCartney's latest book, 1964: Eyes of the Storm – a collection of his photos, from the height of Beatlemania. I thought, then, that this was as good a time as any to begin my oft-planned-though-never-started series of top 5s starting with my top 5 The Beatles guitar moments.
Given that I love almost all of them, were you to ask me in 6 months, I'm sure this list may be, well, flexible. Nevertheless, here are my top 5 The Beatles guitar moments.
5. Octopus's Garden (Abbey Road, 1969)
This first choice had a vicious fight with Blackbird, and While My Guitar Gently Weeps, though controversially has kept them at bay to come out on top. With, arguably, some of George Harrison's finest lead guitar work in his time with The Beatles, Octopus's Garden is full of delightful moments. From the playful lead runs that open the song, through the accent lead licks in the verses and the (literally) effervescent solo, to the descending lick that ends the track, the song is glorious – and that's not even to mention Lennon's reliable, Travis-picked rhythm. Far too often maligned as "that Ringo one", Octopus's Garden shouldn't be overlooked for its excellent guitar.
4. All My Loving (With The Beatles, 1963)
Though not necessarily known for its guitar prowess – and I could have chosen a number of more guitar-heavy songs (think Helter Skelter, or Revolution) – All My Loving is a beautiful collection of all that makes The Beatles so special. There are the perfect, tight, driving triplets of John's rhythm, the melodic wandering of Paul's bass, and then George's note-perfect, country-tinged lead break played on his Gretsch Country Gent. The solo, in particular, is my favourite thing to play on that said same guitar. An added bonus, it is George, not John, that joins Paul to sing in harmony after the lead break, providing the end of the song with some vocal colour.
3. And Your Bird Can Sing (Revolver, 1966)
While John Lennon once dismissed this gem of a pop song as a throwaway, it remains one of my enduring favourites of The Beatles. The dual guitar harmony that introduces the song and reappears throughout is a soaring moment of sugar-sweet pop that stamps a smile on your face. The guitar harmonies, recorded by Harrison and McCartney with a bite of an overdriven sound desk, are beautifully constructed and complement the melodic sunshine of the bass. It is in the final section when the dual guitars gallop on for a second, extended section of the riff that the song is elevated to close to perfection. Tremendous.
2. A Hard Day's Night (A Hard Day's Night, 1964)
And then there's THAT chord. Not simply the beginning of a song, but the opening of a whole album, a bright, chiming burst of harmony that has confounded many guitar players since. According to Randy Bachman in this video, George is playing an Fadd9 chord with a G on the bass on his 12-string Rickenbacker. John accompanies this with a Dsus4 on his Gibson J-160 while Paul plays a D on the bass (apparently the 5th fret on the A string). Oddly enough, what gives the chord further flavour is the layer of piano added by George Martin. The song itself is a masterpiece of 12-string guitar, especially George's arpeggiated outro that blends perfectly with the scene on the train that opens the film with which the song shares its name.
1. The End (Abbey Road, 1969)
In the event I write a future Top 5 of Ringo Starr's best drum moments, his drum solo on this song will inevitably find its way in there, however, it is the guitars that take the top spot in this list. The End climaxes with an onslaught of guitar solos traded by the 3 guitar-playing Beatles, all in characteristic and recognisable style. In fact, Geoff Emerick, The Beatles' engineer, worked hard to ensure each guitarist had a guitar tone that was distinct in the recording. According to Emerick, as they rehearsed, the guitarist reacted to one another crafting out their respective 2-bar solos, eventually recording together in a joyful 6-hour session. The End is a blistering guitar track, and if you don't put the needle back to the start of the track each time you hear it, are you even really a Beatles fan?