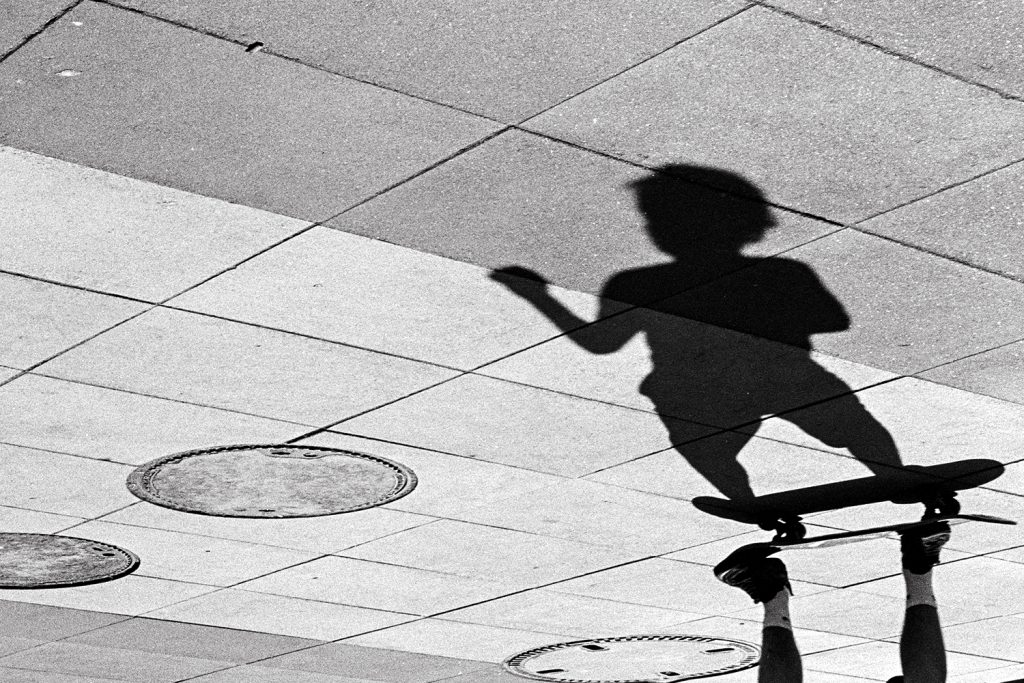 Dedicate yourself for long enough to making any form of art, be it the written word, music, or photography, and through commitment, enthusiasm, and experience, the work will undoubtedly improve. With any luck, there will be fewer oversights and blunders. Mistakes, though, do happen and in street photography, they rarely come without a cost. It tends to be killer rather than filler that we lose – the photographic equivalent of the whopper wriggling off the hook.
I like to imagine I made these mistakes so that you may not have to. With the knowing inevitability that this will launch a series, here are 5 sore lessons I've learned in my time making street photography.
Carry a Camera Everywhere
In my early days, setting the camera aside as I walked out the door was often tempting, especially if not intending to make any photographs. Too many times to count did I reach to pick up the camera and choose to leave it behind, deciding instead that I won't need it, I won't see anything, or depending on the circumstance, it may be a little embarrassing having it on my arm. In those moments, the universe will almost certainly conspire to present me with delicious, photographable moments, and me – dejected and full of regret – with no tool to photograph them.
Instead, I normalised having the camera with me wherever I go and whatever I do. Sure, friends of friends may eye me suspiciously at first, but it wasn't long before I became that guy in my social circle known for carrying the camera like everyone else carries their phones and their keys.
Get Out of the House
While not lazy, I do sometimes procrastinate. Worse, when I find myself in a rut, I prioritise less creative, administrative things to do on days when not full of creative confidence. Though rare these days, there is a temptation to sit behind my computer scanning film, processing photos, or planning for the future rather than getting out the door and in amongst it. Maybe I don't feel attentive, or presume little will be happening in the town, however, I've found that the day I stay at home is the day opportunity knocks and I am not there to open the door.
A recent, thankfully rare, example was Joe Biden's visit to Warsaw in February. Granted, the US President took to the stage much later than planned and had I gone, I would have struggled for light even pushing Tri-X by a couple of stops. Nevertheless, open events like these are great occasions to turn our backs to the stage and photograph the attendees. Apparently, I had something better to do that afternoon, and months on I regret not going out.
With exceptions only for my school work and for family obligations, I now go out for a couple of hours at least, every day and whole days at the weekends. The lesson, of course, is that we must be out there to do the work and make the pictures. We do this because we love it. Sure, there may be days when you trip the shutter only 3 or 4 times. There may be others when we return home with 2 rolls of dross. It's the days when we know we've got something special on the film that makes all that effort worthwhile. Get out there.
Don't Mirror Conflict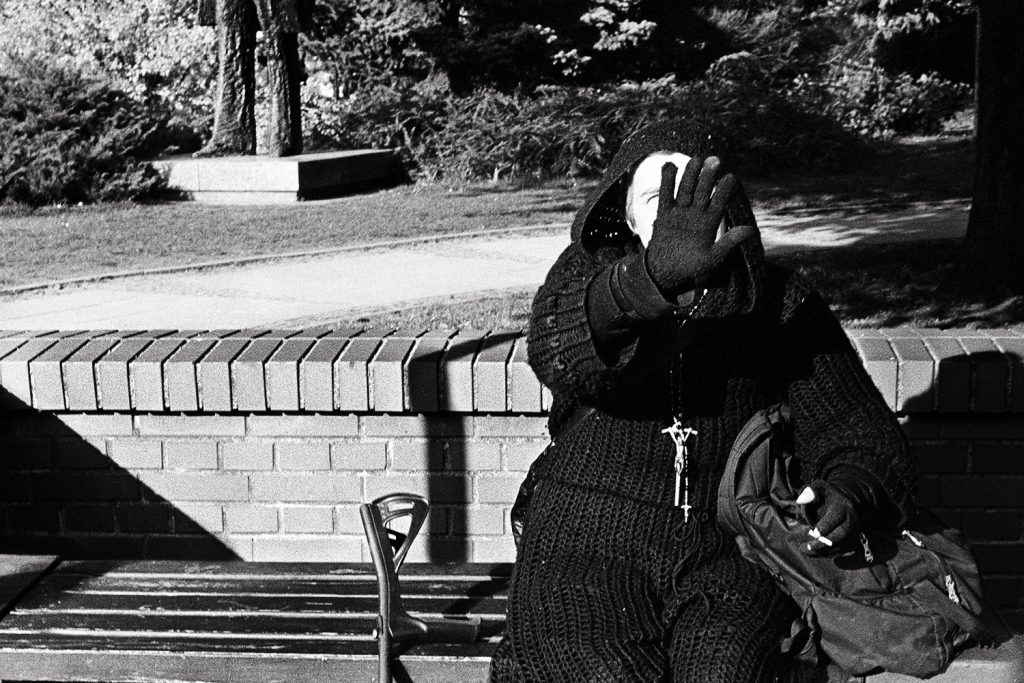 As I've written about before, photograph long enough on the street and there is bound to be some small conflict that arises. Someone may take exception to their being photographed and confront me. It can be a curiosity but can also be resentment or anger. I've had my fair share of confrontations and, with experience, I like to think I deal with them well. That wasn't always the case. There have been confrontations where my inexperienced reaction, be it indignation, irritation, or worse, mirroring the aggressor's aggression, has thrown fuel on the fire and made the situation much worse.
The goal is, of course, to de-escalate any potential trouble. It can be done with nothing more than a simple smile and a thank you. Richard Kalvar calls this having a good bedside manner, and it can resolve most awkwardness. If that's not enough and conflict is inevitable, then avoid – for goodness sake, avoid – indignation. The last thing that will take the heat out of such a situation is lecturing our new friend on our right to photograph in public. If there is no talking to the person, politely thank them, and walk away. Don't let irritation get the better of you and don't lose your temper, no matter how aggressive the other person may be.
Be Prepared
With all the walking, street photography may be physically taxing, but can also be mentally tiring. There is no telling what may appear for a split second then be gone. The street photographer has to be attentive and ready to make a shot at less than a moment's notice.
Not long ago, I had spent a less-than-fruitful afternoon on Marszałkowska Street in Warsaw. Deciding to cut my losses, go home and get some dinner, and try again the next day, I walked towards the Metro. Slinging my camera over my shoulder, I stepped onto the escalator only to find that as I descended, my lack of preparedness had lost me a tremendous picture. Travelling up, was an old gentleman with a creased, weathered face, someone who had seen better days, and with pride and great care, was combing a glorious, distinguished moustache. There was no time, at all, to set exposure, focus, and frame before I had reached the bottom, and he, the top.
From the second you walk out the door, to that moment of petting the dog on your return after a long day's photography, keep the camera at the ready and be prepared.
Remove the Lens Cap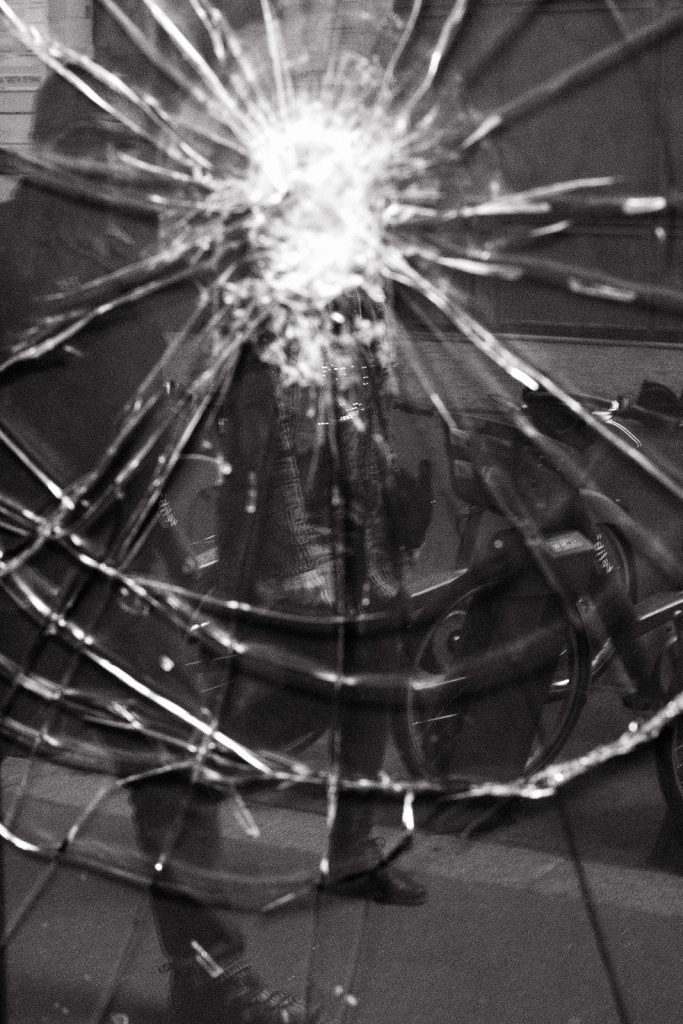 This one will send a familiar shiver down the spine of any photographer with even a little experience in shooting with a camera that doesn't use a through-the-lens viewfinder. I use rangefinder cameras with the viewfinder above and to the left of the lens. Not seeing through the lens as the photographs are made leaves the clumsy, forgetful, or just plain excitable photographer with one rather stupid hazard: Leaving the lens cap attached.
This one is raw as I last did this just 5 days ago. Going out for some errands, I had the camera with me. As I walked towards the mall, a young girl on a push scooter was accelerating down the bicycle lane, with a helium love heart balloon as big as she was. As she travelled into the frame, I tripped the shutter, wound the film on, and walked away feeling like I'd got one. A few moments later, across the street, from the tall wild grass, an older, somewhat eccentric lady was making an odd bouquet. I framed, took the shot and carried on.
Not too much further up the road, I glanced down at the camera to notice the lens cap, still snugly attached to my lens. Of course, in vain, I tried to convince myself I may have absent-mindedly reattached it, rather than forgotten to remove it in the first place. Delusional.
There is a certain, specific, acute humiliation felt in this particular lesson. It is a comfort that everyone from Robert Frank to Olivia Arthur has done it at some stage. Still, it's better to avoid it, so just remember to remove the lens cap.