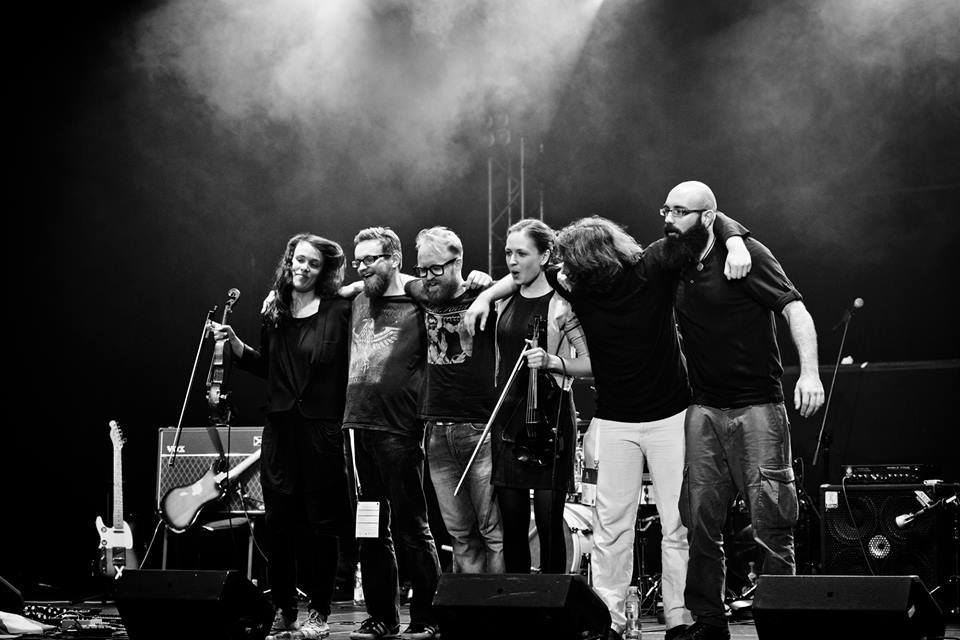 Though largely forgotten about now – even by members of the group themselves – my first band in Poland, the Post-rock effort, the Frozen North had an exciting first year. Recording, radio, TV, wee festivals, TEDxWarsaw, and other bits and pieces.
An Art Gallery on Mars
In late 2014, before a malaise and eventual collapse the next year, we were invited by an organisation to create music for a project that planned to send an art gallery to Mars. The further in time I travel from that meeting, the more I think I may have hallucinated the whole thing.
To some degree, I took the creative lead, and heavily influenced by Krzysztof Penderecki and Jonny Greenwood, I took an avant-garde approach. Over time the piece took shape, with the violins of the band providing the cacophonous spine, surrounded by scraped cymbals, bowed bass, and MAX MSP processed guitar. We invited a choir of our friends to join us in our rehearsal room, and we recorded them reciting random and different pages of the Saturn V technical manual as I conducted – a first for me.
For reasons that are plentiful, the band suffered a crippling slow-down over the next year, and we largely disappeared, losing the momentum and good feeling we'd gained in our first. By the time we split, the piece was a distant memory and lay on my hard-drive for several years.
Foundations Festival
In late 2018, I traveled with a Rickenbacker, a laptop, and, for the first time, a singing voice, to perform at a small festival in Manchester in England. The organisers asked me to provide a video installation, and I fell upon the idea of something of a retrospective of the music I'd made so far. An hour of music featuring everything from Troika, through my solo modern-classical and ambient stuff, through the Frozen North, and the remixes I'd done for bands like VLMV and Worriedaboutsatan, and finishing with music from my solo power-pop, and (what would be come) Pop-up Books, indie-pop.
As I scoured through hard-drives and folders, I came across the unmixed Logic Pro session of this avant-garde thing. Along side Tomek Walczak, who gave me a couple of pointers, I spent some weeks dipping in to it. I added some sounds and I removed others (one member of the band doesn't appear at all – other than in the "choir", for no other reason than the audio just didn't quite fit), and eventually I finished and mixed it down. Once done, I added some strange glitchy video created on my iPhone, named it Marain as an allusion to Iain M. Banks and the sci-fi origins of the piece, then I added it to the film, not expecting anyone than the festival attendees to see it.
Marain: A Tribute of Sorts
Until a couple of years ago when I heard that Penderecki had died. I felt deeply sad as he was quite an influence on me. It reminded me again of this piece of music. While the composition and mix are clearly derivative of their influence, they are deliberately so. Back then, I put it up on my instagram and people seemed to really enjoy it. It became a tribute of sorts. Since then I've forgotten about Marain to some degree until last night I stumbled upon it and thought I should write a little about it.
Thank you to Aga, Kasia, Tomek, Filip, and Dave for the time spent in the Frozen North, and their work on this.